Mystery Quilt #2



Try something crazy and unpredictable and start a Mystery Quilt! Each week we will add a new set of instructions for this simple and easy patriotic quilt pattern. You can also purchase the Mackinac Island Honey Buns and Blue and Red Stars for those of you who don't like too many surprises!




















We are using Honey Buns (1 1/2" precut strips) from the Mackinac Island collection and the red and blue star prints from the same collection. You can purchase the bundle here if you want to make it just like ours!

Click Here to Order






Mystery Quilt #2 Instructions - Two Sizes to Choose From!!!



Finished Size: 60" x 60"
OR
90" x 90"
Finished Block Size: 10"


Easily make bigger by adding more blocks or another border!




Fabric Requirements:


2 Honey Buns (4 for Larger Size)
Or you can cut your own 1 1/2" strips
1 Yard Big Blue Star (2 yards for Larger Size)
1 Yard Big Red Star (2 Yards for Larger Size)


1 Yard Binding (1 1/4 Yards for Larger Size)

4 Yards Backing (8 1/4 Yards for Larger Size)


Part 1 - June 17, 2020!

Let's organize our Honey Buns! (Or your own cut 1 1/2" strips.) Separate your buns into two piles, one of blues and one of reds.

Pile #1 - Blue, Light Blue and Creams with Blue
Pile #2 - Red, Pinks and Creams with Red


There are a couple I couldn't decide if they were red or blue, so we'll just save those to fill in as needed when we start sewing :)
We should also check our seam allowances before starting! You never know what side of the pinking (pinked) edge that you should sew on Precuts to get a proper 1/4 seam. Let's take 3 strips and sew together. (Just sew a few inches down so you don't have a lot to rip out, we need to use these strips later in our quilt!) I sewed on the inside of the pinked edge. The middle strip should measure exactly 1". If it is more then your seam is too narrow, if it is less then it is too wide.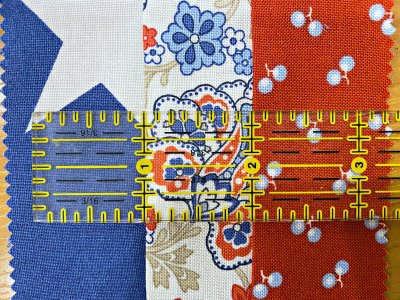 Now that you are all prepared, we'll see you next week!


Part 2 - June 24, 2020
Let's arrange our red and blue piles into groups of three. Each group will have a light, medium and dark. I didn't use the stars or the dark dots, they are too close to our main star prints and might blend in too much. Make 10 red groups and 10 blue groups. You will have a few leftover strips.



Let's sew together our groups of three from light to dark. Now is a good time to check your seam allowance again! The middle strip should measure exactly 1". If it is more, then your seam is too narrow... if it is less, then it is too wide.
See you next week!


Part 3 - July 1, 2020
Let's take all our strip sets that we made last week and cut them into 10 1/2" lengths. ***Note*** Be extra careful cutting because it's a tight fit to cut 4 across each strip set! You will need 42" of usable length on each of your strips. I had 43" on all of mine but we all sew a little different! Simply measure the usable area before you cut and if you are a little short then it's ok to cut a hair into the white part of the selvage, it will get hidden in the seam :)


See you next week!


Part 4 - Coming July 8, 2020!